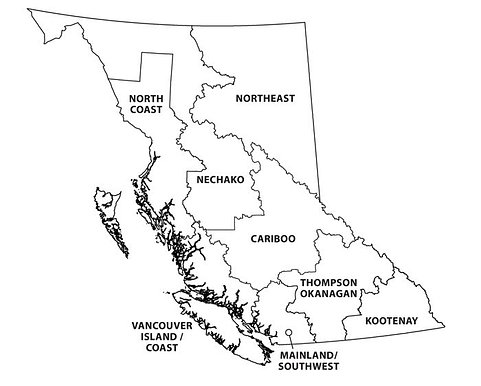 BC PNP Entrepreneur Immigration - Regional Pilot
Full list of participating communities
To qualify, you must:
• Establish an eligible new business aligned with the priorities of the referring community
• Show business and/or management experience
• Have a personal net worth of at least CAD$300,000
• Make an eligible personal investment of at least CAD$100,000 in the business
• Create at least one new full-time job for a Canadian citizen or permanent resident
• Demonstrate a minimum language proficiency of Canadian Language Benchmark (CLB) 4
• Have, or be eligible for, legal immigration status in Canada
• Have been lawfully admitted in the country where you currently live
Cariboo
100 Mile House
Mackenzie
Prince George
Quesnel
Williams Lake
Kootenay
Castlegar
Columbia Valley
Cranbrook
Kimberley
Nelson & Central Kootenay
(Areas E & F)
Rossland
Trail
West Boundary
(Area E)
Nechako
Bulkley-Nechako
Burns Lake
Thompson - Okanagan
Chase
Clinton
Penticton
Salmon Arm
Vernon
Vancouver Island/Coast
Campbell River
Comox
Mount Waddington
Port Alberni
Powell River
Step 1: Make an exploratory visit to B.C.
We encourage senior executives representing the company to visit B.C. to explore and learn more about opportunities and the local business environment.
Step 2: Discuss your proposal
Before applying to the Strategic Projects category, the company must first contact the BC PNP to discuss the business proposal.
Step 3: Register
The company must register expressing the company's interest to apply. As part of the registration, the company will be asked to provide the following:
• company details
• proposed investment in B.C.
​• proposed key staff qualifications
Please contact the BC PNP for further details on submitting a Strategic Projects registration.
There is a registration processing fee of $300.
Step 4: Invitation to apply
We will review the registration and determine if the foreign corporation is eligible to apply.
If invited to apply, the company must submit a full application within 90 days. The invitation to apply will expire after 90 days; the corporation may choose to submit a new registration.
Step 5: Applying to the BC PNP
The company must submit all the required forms as a single complete application package including key staff forms and other supporting documentation. The application processing fee is $3,500 for the company and an additional $1,000 for each key staff proposed.
We will review the application for completeness. We may ask the foreign corporation clarifying questions and request additional documentation. As part of the application assessment process, each key staff member may be invited to attend an in-person interview at the BC PNP offices in Vancouver.
A decision will be made regarding the application and communicated to the company.
Step 6: Signing Performance Agreements
If the application is approved, the company's designated signing authority signs a corporate Performance Agreement with the Province of B.C. Each approved key staff member will also be required to sign a Performance Agreement.
Step 7: Work Permit & Arrival Report
We will issue a work permit support letter to each approved key staff member so they can apply to Immigration, Refugees and Citizenship Canada (IRCC) for a work permit. This work permit support letter is valid for 90 days.
After signing their Performance Agreement, each key staff must arrive in B.C. with their valid work permit within 180 days (6 months) from the date of issuance of their work permit support letter.
Within 60 days (2 months) of arriving in B.C., each key staff must submit a completed arrival report form to the BC PNP.
Step 8: Business Establishment & Nomination
After fulfilling its obligations under the executed Performance Agreement, the foreign corporation must submit a final report to the BC PNP to demonstrate how the company has met the terms and conditions of the Performance Agreement. We will review the report, and may conduct site visits or interviews to verify information.
If we determine that the company has met the terms and conditions of the Performance Agreement, each key staff member who has satisfied the terms and conditions of his/her Performance Agreement will be nominated for permanent residence.
Step 9: Apply for Permanent Residence
Each key staff must submit their application for permanent residence to IRCC within 180 days from the date of nomination.